Quarter-Tone Accidentals Plugin for Finale®
This plugin makes quarter-tone accidentals in Finale extremely easy and fast to create:
no more crawling through Finale's individual accidental settings, just define a dedicated articulation or expression and assign it to a note with a standard accidental - with a metatool it's just one click - and it will be automatically converted to the quarter-tone accidental from a selection of accidental fonts and styles including automatic offset correction and correct size.
Several styles are available: Gould notation (with arrows), Stein-Zimmermann, Stein-Couper and "Number 4" notation. More than 20 quarter-tone accidental fonts are supported (e.g. Bravura, Maestro, Engraver, HE font family, Accidentals, Ekmelos, Tempera, Microtonal Notation, etc.).
Using expressions for quarter-tone accidentals even allows for pitch/tuning alterations in playback.

Image 1: Supported font and accidental styles
Download as high-resolution PDF
More features:
- Add horizontal offset to accidentals before ledger lines
- Includes quarter-tone key signature libraries for each font
- Change all standard accidentals/key signatures to a new font including an automatic update of all necessary document options
- access to 15 free microtonal accidental fonts

Image 2: Gould notation with arrows
The up-/down bow articulations are just an example for using articulations -
it's possible to assign any articulation or expression to the accidentals.


Image 3: "Number 4" notation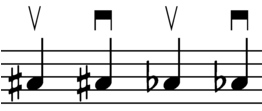 Image 4: Stein-Zimmermann notation
An overview of different microtonal accidental symbols can be found
here
. More than 40 free fonts with lots of microtonal accidentals can be found in the
1000 Music Fonts
link list.
Video 1: Entering quarter-tone accidentals with expressions assigned through metatools and the plugin.
The plugin hides the expressions (to keep the playback ability) and creates custom accidentals.
The plugin always works on a selected area: i.e. note-wise, measure-wise or on the full document.
Video 2: Changing the font from Maestro to Oslo for all accidentals and key signatures and
updating all accidentals in the score with articulations to "Arrow" style in just 10 seconds.
Availability:
not known yet (dependent on further updates of JW Lua - unfortunately there have been no JW Lua update since 2017)