Features of "Perfect Layout" for Finale®
Perfect Layout
includes
more than 100 automated layout processes
for Finale® like:
-collision removal of most music symbols
-automatic alignment of expressions, articulations, hairpins, lyrics and many smart shapes
-automatic visual balancing and collision removal of staves and systems in score and extracted parts
-improval of MusicXML imported files and old Finale files from the 90s (including automatic expression category assignment and alignemnt correction)
-automatic repeated measure numbering for percussion/drum staves
-automatic rest splitting and merging according to the time signature
The plug-in works both as a "
1-click solution
" with many intelligent algorithms that automatically set the best parameters as well as with a very flexible and versatile
user dialog with more than 200 parameters
in the Gold edition. A
full feature list
with references to the before/after images below is available
at the bottom of this page
.
The images below show a few
before and after the plug-in comparison
.
More before/after examples are available in the
Example
and
Video
section.
Feature Overview with Before/After Images
Image 1: Before/after the Perfect Layout plug-in (
View in higher resolution
)
The red and blue measure numbers were added afterwards to the image to help identifying the measures.
Image 2: Automatic score balancing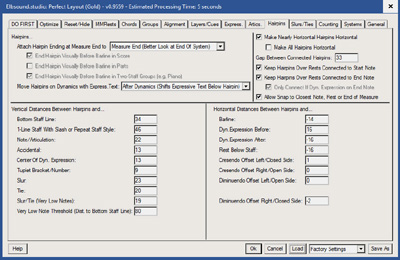 Image 3: The Perfect Layout
User Interface
(for details see
here
)
Feature Overview