Perfect Layout - Online Manual v1.1
This is still the v1.1 manual, the v1.7 manual will published soon.
Contents
Date:Fri, 10 Apr 20 06:15:06 +0200
Quickstart:
How to Use Perfect Layout
Thanks a lot for installing the Perfect Layout plug-in.


PLEASE READ THIS TUTORIAL.
THERE ARE CRITICAL OPTIONS TO CHOOSE THAT THE PLUGIN CANNOT CHECK ITSELF.
If you use the plug-in for the first time and are curious about how your old Finale® documents will look with the plug-in, don't grab a manually optimized document from your archive, but take a raw and unoptimized older version of the document instead. If you don't archive these, you may find some in your Finale® automatic backup folder.Already manually optimized documents will sure get some optimizations through the plug-in, but other manual movements might be removed or solved differently.
The power and time-saving element of Perfect Layout lies in processing completely unoptimized documents.
We recommend testing the plug-in on the first run with the "Perfect Layout demo file" as this is an unoptimized, short and complex test file which also creates all necessary font metrics files.By default it is stored in
c:\program files (x86)\Elbsound.studio\Perfect Layout\Docs and Test Files\ES Perfect Layout Demo.musx



More info on "How to use Perfect Layout" in the following sections.
Get this document as PDF.


 
Manual and User Dialog Settings
This is still the v1.1 manual, the v1.2 manual will published soon.

The complete manual which includes all web pages is available here. There are also some international editions of the manual.
Note: These were translated automatically from the English version and only give a rough translation of the full content. But hopefully it is fully understable.
If you have any suggestions for "automatic improvements" (like word ABC is always translated wrong and could be easily replaced by another word), please let us know.
English PDF or as web page
French PDF or as web page
German PDF or as web page
Italian PDF or as web page
Polish PDF or as web page
Spanish PDF or as web page


User Dialog Tabs
You can click on the tabs (see red mark) to navigate through this online help system.



in EVPUs (Finale's internal measurement system).
If you work in a different metrics system, the plug-in will show converted values according to your selected system.



 
Do First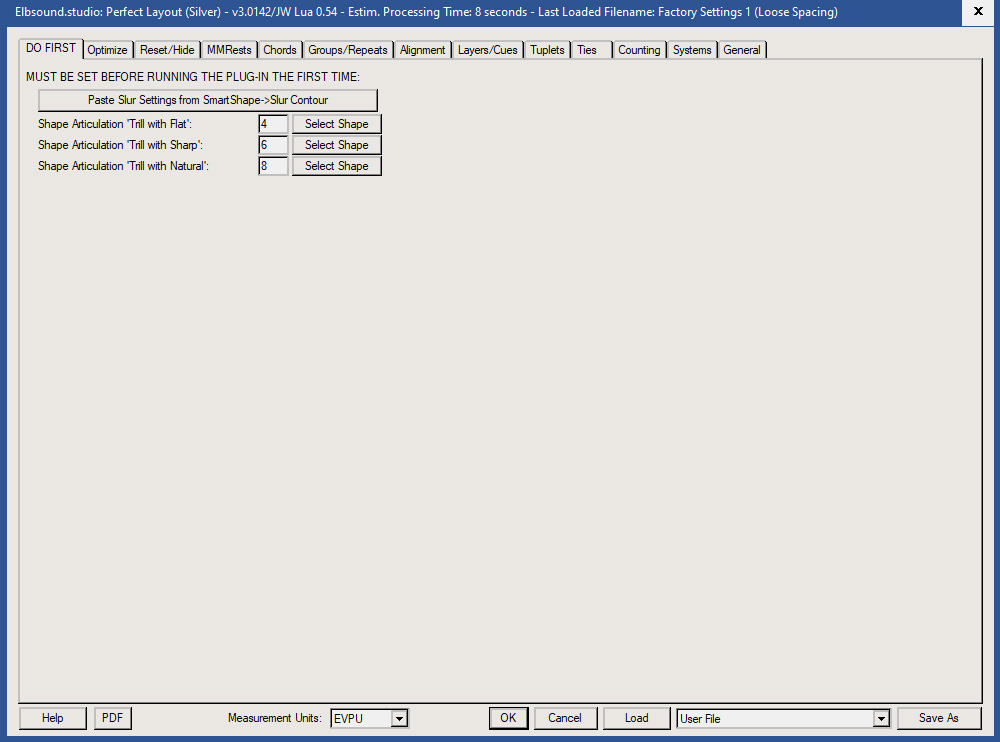 Note: The settings on this tab are important for correcting slur and trill shape articulations.
Unfortunately these values cannot directly be read through the plug-in, so you may have to adjust them manually.
You can ignore this tab if ...
(1) ... your document uses Finale's default slur contour settings (this is usually the case)
and
(2) ... your score doesn't use shape articulations for trills (e.g. a trill combined with an accidental as a shape articulation)
.
If your document uses user-defined slur contour settings (i.e. not Finale's default settings), you need to manually enter these settings here.
If you haven't changed these settings - most users probably haven't -, skip this step.Unfortunately the Perfect Layout plugin currently can't read these values automatically.

To get the settings open SmartShape->Slur Contour and write down the Height and Inset settings for all four span widths (short, mediumm, long, extra long).
Then run the plug-in and enter these values by clicking on the "Enter Slur Settings from SmartShape->Slur Contour" button.
These values will automatically be saved in your plug-in .ini file and only need to be entered again when they change.

In most cases users don't have to change anything here.


If your document uses trill shape articulations, i.e. "Trill with Flat", "Trill with Sharp" and/or "Trill with Natural", then select the shapes here by clicking on the "Select Shape" buttons.
These articulations currently are not detected automatically.
If you don't use shape articulations, skip this step and just leave the fields as they are.


Optimize Finale's Defaults
In the "Optimize" section you can select which document options should be changed to the plug-in's optimized values.
The plug-in can update Finale's settings for slurs, ties, hairpins, tuplets and spacing.
Slur values are only updated in the Smart Shape Options menu, not in the Placement or Contour menu.
These values are hard-coded in the plug-in and result from many years of Finale® expertise.
Still it's possible that they don't fit your personal needs, so you can switch off these settings individually. As JW Lua doesn't allow slur modification, it's also possible that some slurs still have little collisions with notes as there are no all-purpose settings for slurs.


The plug-in will also automatically update the staff line, stem line, bar line and ledger line thicknesses unless you have changed them manually to values where the thicknesses are not equal.
For better readability it is recommended to have different values for each type. The plug-in will apply these thicknesses:

Stem Line: 2,65 EVPU
Staff Line: 2,96 EVPU
Ledger Line: 4,00 EVPU
(Thin) Bar Line: 3,82 EVPU

For better quality the plug-in will also set the Curves Resolution to 127 (from Document Options->Lines and Curves).
The "Double barline preceding key changes" feature will also be enabled automatically.
It's currently not implemented to switch off these features.


When the tuplet default settings are updated, Finale® doesn't automatically update the existing tuplets.If you want to have the tuplet settings copied to each tuplet, select "Copy Default Settings to Tuplets".If "Optimize Tuplet Settings" is selected, the settings are always copied to the existing tuplets.

The default placement for tuplets is the stem side.
But there are situations where it makes more sense to place them via the "Above" or "Below" method.
In order not to overwrite these above/below tuplets with the default settings, the option "Copy Default Settings Also on Explicit 'Above' or 'Below' Tuplets" is unchecked by default.


The "Optimize Rests" option enables the algorithm for better rest splitting (e.g. dotted quarter in 6/8, etc.). In scores Perfect Layout also analyzes other staves to detect for example if a 5/4 time signature is split to 2+3 or 3+2.
If many alternating, complex or ambiguous time signatures are used, it is also possible to turn off "Optimize Rests".
Consolidated rests (i.e. rests in multiple layers that are merged to one visible rest) are by default excluded from the rest optimization algorithm (Option: "Exclude Consolidated Rests from Rest Optimization").
The "Force consolidated rests" option creates consolidated rests if non-consolidated rests are in the score. This is especially interesting on MusicXML imported documents as they don't conserve Finale's consolidated rests feature. If the plug-in detects a MusicXML imported document, this feature is automatically activated in the user dialog and needs to be deactivated manually, if unwanted.


In the spacing section you can also select when a full document (re-)spacing has to take place.
You can force a full respacing by checking "
Always Apply Music (Re-)Spacing to Full Document Before Processing
".
This option makes sense if the part layout is still "raw" and multi-measure rests haven't been created either.
If you have applied music spacing to the document or if "Automatic Music Spacing" in Finale's preferences had been switched on (it must be switched off before running the plugin! See
here
), you don't need to check this option.
By default it's unchecked.
If chord symbols are found and there is at least one measure with three chords or an overlapping of chords is very likely (e.g. chords at end of measure or wide chord suffices), a (re-)spacing is always performed, when the option "
Always Respace If Chords Found
" is selected.
When the spacing settings are optimized, a (Re-)spacing is only applied to the document if "
Force Full Document Respace If Major Spacing Settings Change
" is checked.
It is selected by default.
Other situations where the spacing may change are described in the
overview
.
You can adjust the baseline position and the baseline and entry offsets for dynamics and expressive text.
The baseline position is the vertical offset from the middle of the staff lines.
This will update the placement and alignment of all existing expressions. Expressions from other categories will be corrected, so that they stay at the original position.
While the "
Below Staff Baseline Position
" affects expressive text and dynamics expressions, the "
Above Staff Baseline
" mainly affects tempo marks, rehearsal marks and tempo alterations.
For the Perfect Layout plugin the baseline always means the
closest position to the staff line
. If there is a collision, the expression will be horizontally or vertically shifted, but never closer to the staff.
There is only one exception: dynamics are shifted slightly closer to the staff, if the "Shift Dyn. Expressions Up If Lowest Element is Staff Line" is selected in the "
Express.
" tab.
Reset/Hide
In general the Perfect Layout aligns
dynamic and expressive text expressions below the staff horizontally and vertically
tempo and rehearsal marks and tempo alterations above the staff horizontally and vertically
leaves all other expressions untouched.
Usually the plug-in first removes any manual adjustments, then looks for collisions and, should it detect any, moves the expression away from the colliding object.
If the horizontal offsets of the expressions are huge, then it is unlikely that a clear zero position was intended by the engraver. In this case manual (horizontal) adjustments are not removed.
The
thresholds for "huge offsets"
can be set in "
Reset Horizontal Position of Dynamics Until Maximum Horizontal Offset
" and "
dito., Max. Horizontal Resset Offset for Whole or Dotted Notes
".
Dynamic expressions in
staves with lyrics
are very often placed above the staff, these are currently not taken into account for alignment.
The option "
Reset Vertical Position of Dynamics and Expressive Text on Notes With Lyrics
" is switched off by default. If selected, dynamics above the staff will suddenly appear below the staff line if they were taken from the default dynamics category and it is still set to below baseline.
Some expressions usually
only appear in the parts
, to not mess up the conductor's score. These expressions must be placed in a user-defined category containing the keywords defined in "
Hide Expressions in Score with Category Keyword(s)
".
E.g. if you name the expression category "In Parts Only" and enter the keywords "part,only", then the plug-in will hide all expressions from categories with names that includes these keywords.
Image 1: Category "In Parts Only"
Just as expressions articulations positions are usually first set to the vertical default position and then tested for collisions.
It is highly recommended to keep the option "Reset Vertical Position of Note Articulations, Fermatas, Bows and Ornaments" selected.
Only recognized articulations are reset, i.e. shape articulations or articulations with unknown music symbols are not reset, except for those shape articulations that are explicitly defined in the Perfect Layout settings (e.g. up/down bow shape articulation).
Articulations that are usually aligned manually (e.g. arpeggio) are not reset by default (see option "Also on 'Position: Manually' Articulations").

Certain articulations can be automatically hidden in the score. This might make sense for bow marks, breath mark commas or certain shape articulations (e.g. brass fingering).
These can be selected in "Hide These Articulations in Score Only".
By default, only bow marks are selected.


The option "
Reveal Accidentals on False Tied Notes
" shows accidentals that were forgotten to add and only disappeared because of Finale's function to automatically hide accidentals if a note is tied.
Advantage
:
This helps
detecting wrong notes in playback
or even wrong ties.
Disadvantage
:
If the tie was correct, it also looked correct without the extra accidental. But if the accidental is revealed by the plugin, it will look wrong.
This option is more important if you work with playback. It is not recommended to use it, if you work without playback.
Image 2: Left: Original, Right: Hidden accidental revealed
It is recommended to let the plug-in remove all manual slur adjustments by selecting "Reset Manual Slur Adjustments". Otherwise slur optimizations may not work.
By default manual slur adjustments are removed, while manual curve adjustments are not because they are very often "hand-made" to illustrate a more complex behaviour.


To remove faulty manual note positions that were created accidentally, the Perfect Layout plugin has the option to do this automatically according to Finale's settings from Document Options.If the option "Automatic According to 'Manual Positioning' from Document Options" is selected, then .............

The option "Move Single Pitch Notes on One-Line Percussion Staves Onto Staff Line" is required for 1-line percussion staves where the notes are not centered on the staff line.This occurs from time to time in older documents or when imported through MusicXML.
This feature only becomes active when only one pitch ("Single pitch") is used throughout the staff. It will not do anything for example to two-note conga or bongo staves.


The option "
Reset Left End Point Offset of Lines That Start on Measure Pos 0
" is helpful for most custom lines as it is difficult to place them with a horizontal offset 0 on first try.
But there are, of course, scenarios where this option should better be switched off (especially in contemporary notation).
Image 3: Left: Original, Right: Start position set to horizontal offset 0.
"
Clear Manual Vertical Lyrics Positioning
" removes all manual adjustments. They appear especially in imported MusicXML files.
Image 4: Left: Original, Right: After vertical reset
Multi-Measure Rests
You can choose to apply the "Classical Look" to multi-measure rests by selecting "Force Classical Look". That means: classical rest symbols and also multi-measure rest symbols in 1-bar measures (see also image 2 below). By default this option is unchecked.
If this option is unchecked, the multi-measure rest style will not be changed.


The measure number range (e.g. [24-34]) below a multi-measure rest can be very helpful for the player. But it should not include unnecessary information either. So it makes sense to not show it on every multi-measure rest, but only on the longer ones and for example after each double bar line (Option: "
Show Measure Rang After Double Bar Lines
").
The number of empty bars for hiding/showing measure ranges can be set twice:
a.)
Absolute
: "
Always Hide Measure Range If Less Than X MMRest Bars
". By default it's set to 3.
b.)
Relative
: "
Hide Measure Range If Less than X Adjacent MMRest bars
" also takes into account measures before and after this multi-measure rest. By default this is set to 10.
For example two multi-measure rests of 3 and 8 measures each will show the range (3+8=11), but a single 8 measure MMRest will not show the range (see image 1).
The measure range can be activated by selecting "
Show Measure Number Range on MM Rests
", but it currently can't be hidden if it is already visible.
Image 1: Adaptive Measure Range Visibility on Multi-Measure Rests: Visible if at least 10 adjacent measures and after double bar lines.
To faciliate reading you can select to hide tempo alterations in multi-measure rests: select "
Hide Tempo Alterations in MM Rests
". Depending on the content, this may be appropriate or not. This option is unchecked by default.
The sub-option "
dito., But Only If No Notes Follow Until End
" allows to hide tempo alterations at the end of the file if no notes follow until end. This is usually "safe" for the player.
This sub-option is activated by default.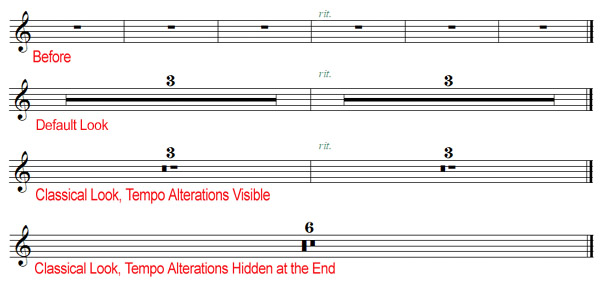 Image 2: Some Multi-Measure Rest Settings
Right-aligned tempo marks in the last measure of a multi-measure are typically being swallowed by Finale's multi-measure rest creation algorithm.
Alternatively Finale splits the multi-measure rest and adds an extra empty measure with the tempo mark.While this may be more clear in some cases, it might be easier to read if the symbol was visible at the end of the multi-measure rest (see image 3 last line).To activate this feature select "
Show Right-Aligned Tempo Marks on MMRests
".
Make sure the expressions are right-aligned, attached near the end of the measure and are set to "Break MM Rest".
Image 3: Tempo Marks at the End of Multi-Measure Rests
Chords
For better readability of a conductor's score it's possible to show chord symbols only on selected staves.For example if a jazz band score has chord symbols on the piano, electric guitar, electric bass and vocal staff, it make senses to limit their visibility to the piano and/or e-guitar staff. This will give you more vertical space on the page.
The Perfect Layout plugin offers to show the chords on all staves in the score, or on one or on two (Option: "Show Chords in Score Only on Staff").
This only affects the score. In the parts all chord symbols will be visible.


The chord default position can be automatically changed to "Left"-aligned - recommended for better readability and checked by default.

By default Finale® chords have a horizontal offset of 12 EVPU. This can be changed to any value ("Set All Chords to Horizontal Pos X").Changing this value might improve the look on handwritten/jazz fonts which otherwise might have an odd offset.


Groups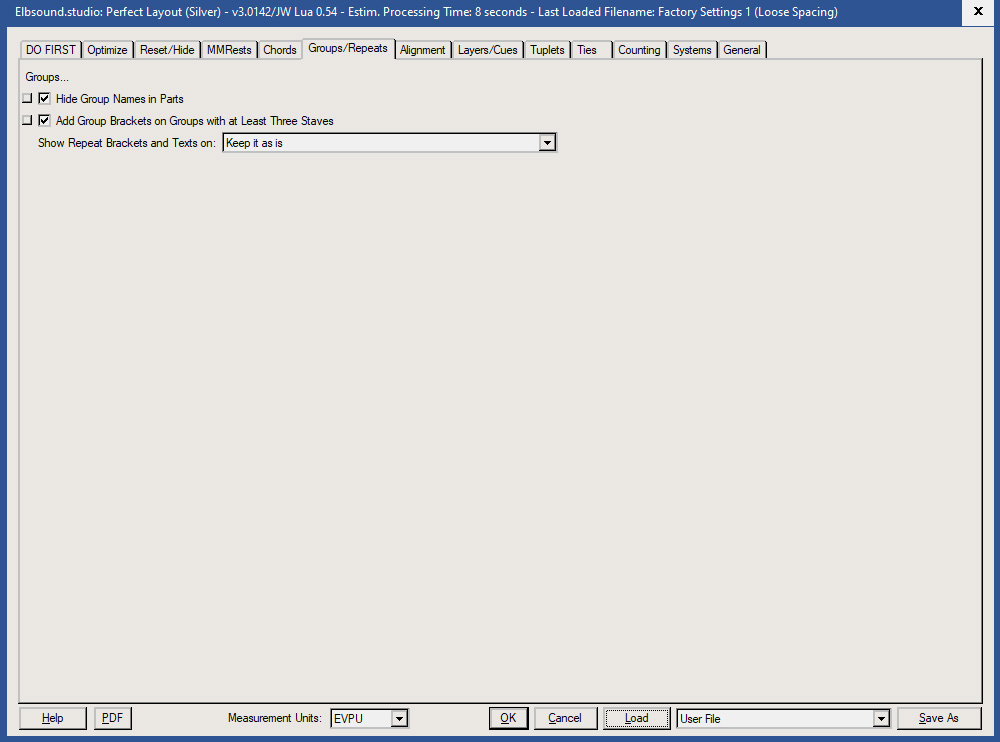 By default the plug-in hides group names in parts. E.g. on a piano part the "Piano" name left to the staff lines (=group name) will be hidden, so that only the part name is visible.
If the part doesn't have a page text object with the part name, the group name will not be hidden.


For better readability group brackets are can be automatically added to staff groups with at least three staves (Option: "Add Group Brackets on Groups with at Least 3 Staves").
The plugin makes sure that these groups don't interfere with other groups or other group brackets and in doubt it won't add a bracket.


When importing old or MusicXML documents, the repeat brackets and repeat text elements often show up on every staff.
It usually looks better if only placed on the top staff or only few staves. The "Show Repeat Brackets and Texts" option solves this.


Alignment
The Perfect Layout has two algorithms for placement of tempo and rehearsal expressions above the staff:
a.) Align each expressions individually (closest to the staff)
b.) Align all expressions per system on the best fitting line (above all other objects)
c.) Align all
text
expressions on the best fitting line, but keep rehearsal marks close to the staff (Option "Per System/Skip Rehearsal Marks")
This option can selected differently for the score and the parts.
Individual alignment gives more vertical space for other objects and works better in narrow part pages.Alignment per system is usually better readable, but requires more space.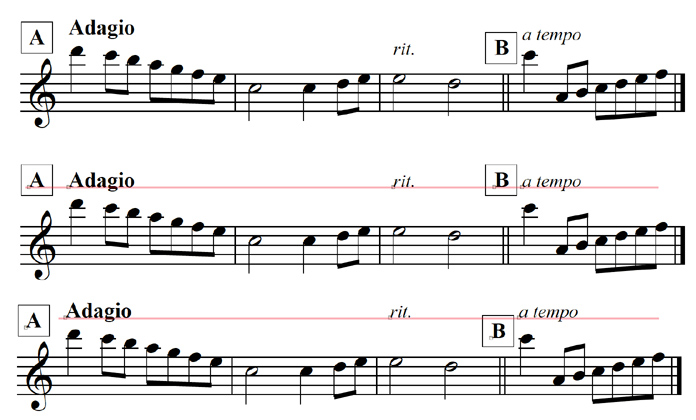 Image 1:
Top (a): Individual alignment (close to the note/staff)
Middle (b): Alignment on the best fitting line
Bottom (c): Alignment of the text expressions. Rehearsal marks are close to the notes/staff.
A few general options for expression, articulation and hairpin alignment can be set on this tab:
An "
Extra Vertical Collision Offset
" can be set here (Default: 5 EVPU). This value is added to all vertical offsets on the expression, articulation and hairpin tab and makes it easier to generally increase the vertical distances of two objects. Don't forget to also adjust the "
Below Staff Baseline Position
" and/or the "
Vertical Entry Offset
" on the "Optimize" tab in order to adjust the general placement of dynamics and expressive text.
The Silver edition allows six predefined values (-3, 0, 5, 10, 15 or 20 EVPU), while the Gold edition is fully flexible.
Image 2: Extra Vertical Collision Offset: -2, +5 and +15 EVPU
The "
Harmonize Offsets and Aligment of Rehearsal and Tempo Marks
" option harmonizes the offsets in the Rehearsal Marks, Tempo Marks and Tempo Alteration categories which improves their horizontal and vertical alignment.
The overall vertical alignment of hairpins, dynamics and expressive text on a system is done in a complex algorithm which takes into account many vertical and horizontal positions and distances and tries to create a visually balanced and pleasing look.
The options for the algorithm are:
a.) Vertically
Align Dynamic Expressions Only If Connected by Hairpins
: self-explanatory (see image 3 below)
b.)
Smoothen Vertical Alignment of Hairpins and Dynamic Expressions
: If selected, the vertical alignment algorithm is run twice. This usually leads to more hairpins and dynamics being on the same vertical position and thus look smoother.
In the parts where there is usually more vertical space available and where readability is much improved by dynamics and hairpins being on the same vertical position, it makes sense to align close dynamics also if unconnected and to smoothen the vertical alignment.
In the score these options usually are selected the other way round. These are also the default settings.
Single dynamics on very low notes are usually not taken into account for overall vertical alignment (see the
fff
and the
ff
in image 2 above).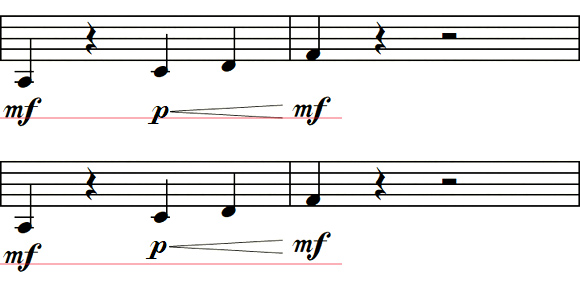 Image 3:
Top: All dynamics are aligned, also if unconnected.
Bottom: Only those dynamics are aligned that are connected by a hairpin.
While dynamics and hairpins and single staves are aligned with a certain distance to the lowest object above them, on two staff groups like in piano notation they are usually centered between the lowest object from above and the highest object from below.As is single staves they still have to be connected to adjacent dynamics/hairpins in a musical and visually balanced way.
The Perfect Layout offers vertically staff-centered alignment of dynamics and hairpins in combination with automatic best staff distance calculation.
To activate this feature check "Center Dynamics and Hairpins Between Two-Staff Groups".
The feature is still in beta state, but already delivers very good results most of the time - even if there is not much vertical space available.




In order to avoid collisions of rehearsal marks and measure numbers, you can easily select their placement in "
Place Rehearsal Marks at Start of System
" and "
Place Measure Numbers at Start of System
".Of course, it is also possible to keep the original position.
Don't forget to uncheck "Hide Measure Numbers" in the rehearsal mark expression to actually see measure numbers next to rehearsal marks.
To fine-tune the placement of measure numbers, you can also change the horizontal and vertical offsets at system start manually. By default these values are created automatically ("
Automatically Set Measure Number Offsets at Start of System
").
To avoid collisions with group brackets, you can check "Extra Vertical Offset for Curved Group Brackets". It moves measure numbers on top of a group bracket slightly upwards and below the bracket slightly downwards.
Image 4: Extra vertical offset for curved group brackets
In general it is recommended to use narrow fonts for measure numbers at system start (e.g. Arial Narrow) - especially when the piece has more than 100 measures (i.e. 3 digits).
Other recommended fonts for measure numbers are available here:
serif
and
sans serif
fonts.
Here are some of the options:
Image 5:
1: Reh.Mark: Left Edge, Left-Aligned / Measure Number: Left Edge, Left-Aligned, Above
2: Reh.Mark: Left Edge, Centered / Measure Number: Centered over Clef
3: Reh.Mark: Centered over Clef / Measure Number: Left Edge, Right-Aligned, Below
4: Reh.Mark: Centered over Time-Signature / Measure Number: Centered over Clef
Other options are "At Music Start" and "After Time Signature".
Automatical alignment of lyrics in relation to the lowest notes is partially available in the Perfect Layout plugin.
Unfortunately the JW Lua plug-in interface doesn't support creating
new
staff baselines for lyrics.
So if a Finale document doesn't have any manually adjusted staff baseline for lyrics, the alignment won't work.
Here is the description
what you have to do before running the plug-in.
The available distance options are:
Vertical Distance to Lowest Note
Vertical Distance Between Multiple Lyrics Lines
Extra Distance to Bottom Staff Line
(if all notes are only above the bottom staff line)
The lyrics alignment is rather limited. It only takes into account the note bottom positions (including articulation) and fixed offset if a note has a slur.The exact slur data is currently not taken into account which might lead to collisions.
Image 6: Automatic Multi-Verse Alignment with the Perfect Layout Plugin
Tuplet brackets on lyric staves are automatically moved on top of the staff to avoid collisions (measure 1).
In the last measure the slur collision is removed, but the distance to the slur is slightly too small which is a result of the fixed slur offset. This will be fixed in a future release.
Layers and Cues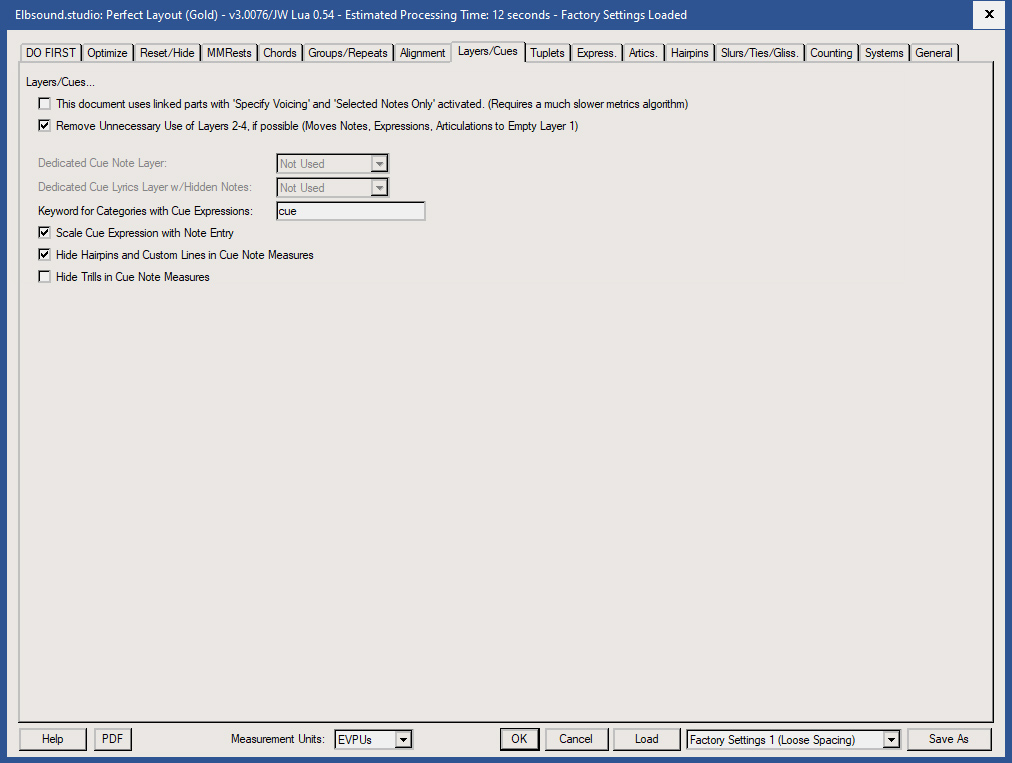 The plug-in can move all notes that were accidentally inserted in upper layers to layer 1. It doesn't do it when the layer has different playback attributes or if it contains resized notes (probably cue notes).
The option "Remove Unnecessary Use of Layers 2-4" is checked by default.


The Perfect Layout plug-in has a few functions dedicated to cue notes and cue texts.During initalization of the plug-in it tries automatically detect the "Cue Note Layer" and, if used, a "Cue Lyrics Layer w/Hidden Notes" (which some use for lyrics scaling).
If no cue notes were found, then these options ("
Dedicated Cue Note/Lyrics Layer
") cannot be set.
The plug-in processes cue texts created with Finale's "Add Cue Notes" plug-in like "Fl." or "Trb.1" if they are placed in a dedicated expression category. To detect this expression category it looks if the category names include the keyword listed in the option "
Keyword for Categories with Cue Expressions
" (set to "cue" by default).
Image 1: Cue expressions category
If the option "
Scale Cue Expression with Note Entry
" is selected, then the cue expression will get be reduced like the note entry (activated by default).
It's possible to let Perfect Layout hide some symbols in cue measures: hairpins and custom lines are hidden by default (Option: "Hide Hairpins and Custom Lines In Cue Measures").In the Gold edition you can also automatically hide trills (Option: "Hide Trills in Cue Note Measures", deactivated by default).


Expressions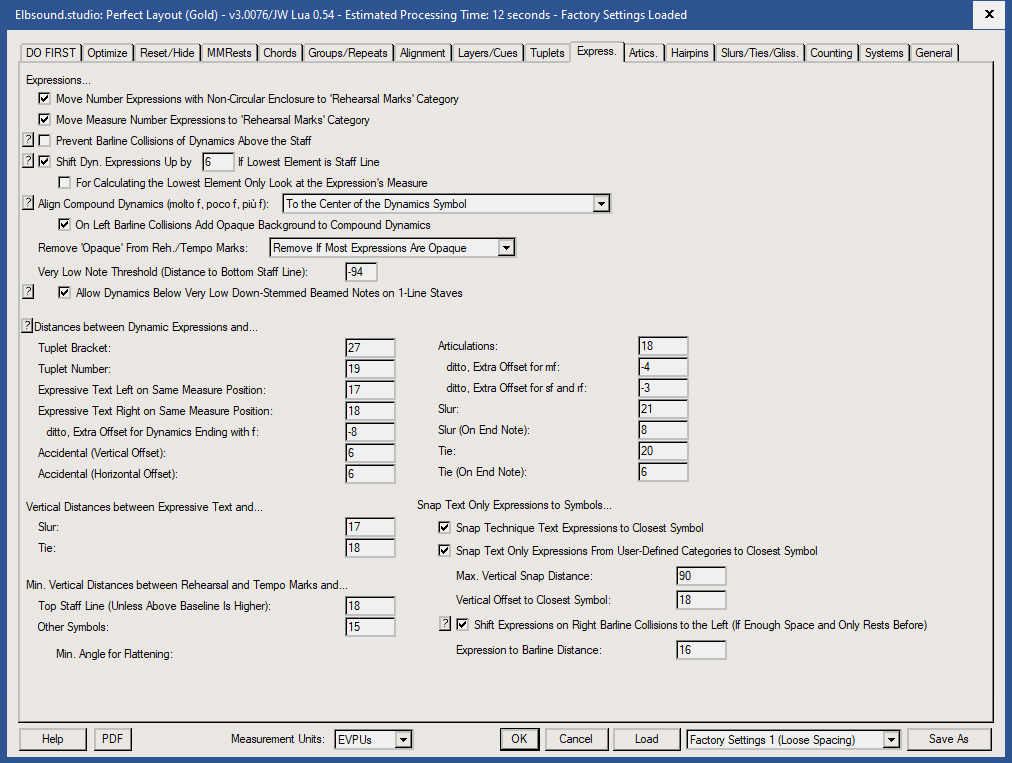 The silver edition has no expression tab.
To get the best results with the Perfect Layout plug-in it's important to use Finale®'s expression categories correctly.
The same goes for Finale®'s other default categories:
1.)
Dynamics/Niente Circle
: Keep dynamics only in a category with the keyword "Dynamics" (or Dynamik or dynamiques or dinamiche from the international editions of Finale). It's also possible to combine words like "Percussion dynamics" or "Above Staff Dynamics" - as long as the main keyword is found.
2.)
Expressive Text
: Expressive text expressions are partially taken into account in alignment. Especially in combination with dynamics or hairpins on the same measure position the expression will be aligned horizontally and/or vertically.
3.)
Rehearsal Marks/Tempo Marks/Tempo Alterations
: Elements in these categories are taken into account for vertical and horizontal alignment above the staff. Rehearsal Marks can also be placed at different positions at the beginning of a staff (see
alignment tab
).
4.)
Technique Text
: Expressions in this category are
not
vertically/horizontally aligned!
5.)
"Cue"-Keyword (user-defined)
: see
Layer/Cues tab
.
6.)
"In Parts Only"-Keyword (user-defined)
: see
Reset/Hide tab
.
If you use
expressions with numbers
only, the plug-in can move them into the Rehearsal Marks category, if these options are checked.Numbers with rectangular expressions can be automatically moved (Option "
Move Number Expressions with Non-Circular Enclosure to Rehearsal Mark Category
"). Numbers with circular enclosures are typically fingerings and will not be moved automatically.
Measure number expressions can also be moved automatically: the plug-in compares the expression number with the measure that the expression is used in and if it fits, it will be moved (Option "
Move Measure Number Expressions to Rehearsal Marks Category
").
Note 1:
For best alignment
use as less expressions in one measure position as possible
.
E.g. "più f" or "pp sub." should be a single expression. The horizontal alignment (not centered as in standard dynamics, but left- or right-aligned) is automatically applied in these cases.
The same goes for tempo marks and rehearsal texts:
If you have for example the four above staff lines "M" (=Letter M), "Andante", "q=100" and "Verse" don't use four expressions on top of each other, but only two: use the rehearsal mark M plus a single expression for the text.
The Perfect Layout plug-in has a few cases where multiple expressions are aligned correctly, but it becomes difficult if it is more than two of the same type.
Note 2:
If you have
imported a document through MusicXML
, it performs an automatic category assignment if the whole score is processed with the Perfect Layout plug-in:If the plug-in detects typical keywords, it suggests to move the expressions to the corresponding category.
This works very good with dynamic expressions and also with a few standard expressions from the other categories. But especially if you use less common or foreign texts, the automatic category detection does not work.In this case it is important that you move the expressions to the correct category before applying the plug-in. Otherwise not all features will work.
You can remove the opaque background from rehearsal and tempo marks/alterations with the option "Remove 'Opaque' from Reh./Tempo Marks".
Usually the opaque feature is not required for rehearsal marks after applying Perfect Layout, as the plug-in will remove all collisions anyway.Nevertheless it's possible to fine-tune this feature by the selection list which includes
"Don't Remove",
"Remove If Most Expressions Are Opaque" and
"Always Remove".


If the lowest element on a measure or staff is above the lowest baseline, the dynamic expressions can be shifted upwards (Option: "Shift Dyn. Epxressions Up by XXX If Lowest Element is Staff Line").You can set the "shift up" value and select if this applies to single measures or full systems only (i.e. all measures on that system need to be above the lowest staff line).


You can set the vertical distance of dynamic expressions to many other notation elements.
To optimize the look some dynamic symbols (mf, sf, rf, f) can get reduced offsets which better fits their skyline.


You can set the vertical distance of expressive text expressions to slurs and ties.



Articulations
The silver edition has no articulations tab.
The vertical distances of articulations to other articulations (=stacked), to tuplet brackets and tuplet numbers and to slurs can be set in this dialog tab.In the
Express. tab
it's also possible to set the articluation to expression distances.
The Perfect Layout plug-in can automatically create "inside slur"-articulations - if otherwise the aticulation was placed far above a slur.The "inside slur" articulation will be created if the vertical articulation offset exceeds the value from "
Offset Before It Gets 'Inside Slur' Style
" (default: 45 EVPU).
Image 1a (Left) Ouside Slur Articulation, 1b (Right) Inside Slur Articulation
On tuplet brackets it's possible to automatically place
ornament articulations
outside tuplet brackets (Option: "
Place Ornaments Ouside Tuplet Brackets
").
While standard note articulations (staccato, accent, dot, tenuto, etc.) are automatically placed inside the tuplet bracket, fermatas and bow marks are automatically placed outside.
Image 2: Before and after the Perfect Layout plug-in (ornaments outside tuplet brackets)
Hairpins
The three hairpin settings in the Basic edition are on the Alignment and the Optimize tab.
The Perfect Layout plug-in differentiates between the
actual end connection
of a "hairpin over the barline" and the
visual connection
.
You can select a connectiona) to measure position 0 in the next measure or
b) to the end of the previous measure.
Solution a) is optimized for playback, but has the drawback that hairpins over systems can't be separated from the end of system barline.
Solution b) is visually optimized, but doesn't work fully optimized with Finale's cresc./diminuendo playback.
In solution b) the hairpins ALWAYS end before the barline.
If solution a) is selected, it's possible to specify where the hairpins should visually end: to avoid/allow collisions with the barline.
This selection can be made for the parts, for the score and for piano (two staff) groups.
Image 1 lists a view options.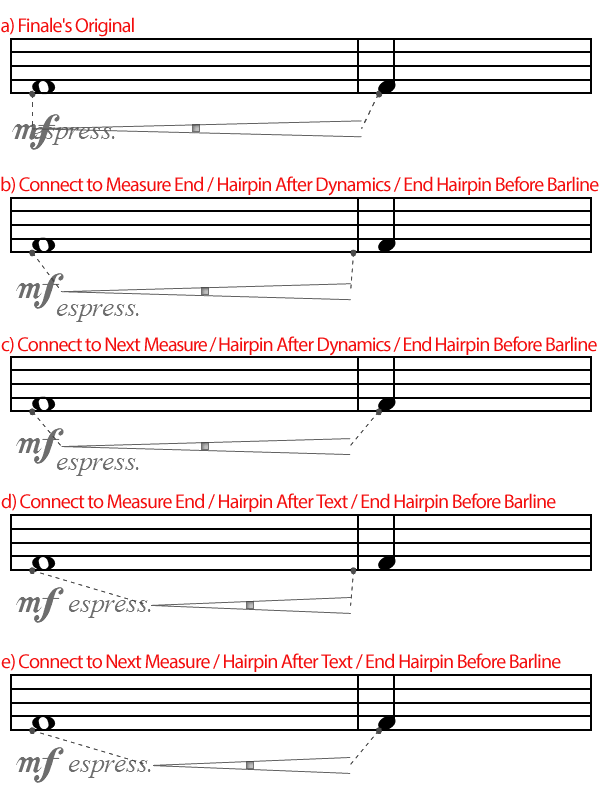 Image 1: The hairpin connection options
Hairpins can either start directly after a starting dynamics or after the expressive text expression (see image 2).
Option: "
Move Hairpins on Dynamics with Express. Text After Dynamics/After Expressive Text
".
Expressive text expressions that start somewhere in the middle of the hairpin are moved below the hairpin (e.g. "molto" in image 3).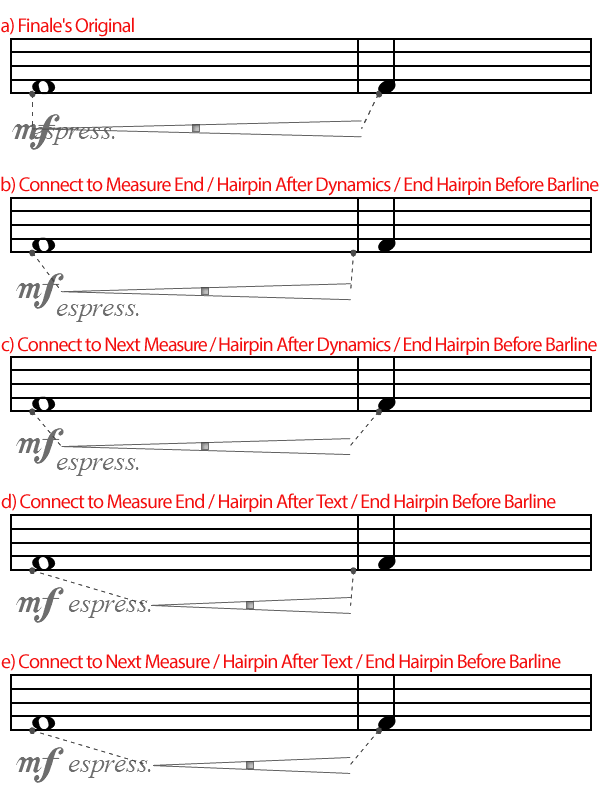 Image 2: The hairpin connection options
---
Image 3: Hairpin and "molto" text (with end hairpin before barline option)
If hairpins are connected on a measure position, you can specify the gap between them (Option: "
Gap Between Connected Hairpins
").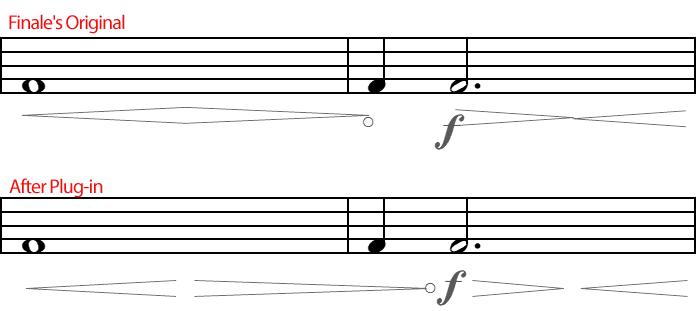 Image 4: A gap between connected or overlapping hairpins is automatically inserted (width: 33 EVPU by default)
(Note: the niente circle has been automatically shifted to the end of the note)
If a hairpin is connected over a rest to an end note, it's possible to keep it or to have it reduced to the end of the previous note (see image 5).
It's also possible to only keep it, if it is connected to a final dynamic expression (image 5c).
The same option is available for start notes.
Image 5: Hairpins and rests at the end
The automatic connection of expontential and niente expressions with hairpins is supported.
For niente hairpins create an expression in the Dynamics category and use an O, 0, o, ° from a text font or an 0 or o from any of the supported music fonts as the symbol.Make sure to activate the "Enclosure" property. You don't need to fine-tune the enclosure - the plug-in will do this for you (but unfortunately JW Lua doesn't allow the activation of the Enclosure field, so this needs to be done manually).The opaque enclosure is required to make sure that there is no tip of the hairpin visible after the niente.
Instead of the "o" symbol you can also use the music symbol "n" or the text "niente" or "quasi niente".
For exponential hairpins the symbols from the November2 and the DSE Music Symbols fonts are supported. Again create an expression with these symbols and place it in the Dynamics category.
This video shows how it looks in the score:
Video: Exponential and Niente Hairpins
In standard notation hairpins usually end at the last note or rest before the empty measure.
In contemporary notation however there may be situations where hairpins should occur in "empty" measures, especially if it's a graphical or other note-less notation.In this case you should uncheck "Shorten Right End of Hairpins If They End On An Empty Measure".
In the Silver Edition this option is on the "Alignment" tab.


The exact start and end offset of an hairpin on a note or a rest is automatically calculated by the plug-in (see image 6).
Image 6: Hairpin start and end points after applying the plug-in (with end hairpin before barline option)
If the start/end of the hairpin is further away from the next note, it depends on the context whether the plug-in snaps the hairpin to the closest note.Only if the plug-in is sure that this is what was originally intended and if "Allow Snap To Closest Note, Rest or End of Measure" is checked, then it might snap.
The plug-in takes into account the horizontal distance between the objects, dynamics and also hairpins on other staves in the same measure, so that, if possible, all hairpin are treated equally.
In doubt the hairpin will not be changed. So when entering the hairpin, it is best to not create ambiguous layouts as in image 7.
Image 7: Where should the hairpin end on the left image? On beat 3, 4 or even on beat 1 of the next measure?
On the right image it's obvious.
Note: Finale has a problem with the end of the closed side of a hairpin on screen which doesn't match the end position of the hairpin in print (PDF or paper).The plug-in takes this into account and always calculates the offsets for print only. I.e. should there still be a collision of a hairpin with a dynamic on-screen, do a print to PDF or paper first to check if it isn't that bug.
Only in very rare cases the plug-in doesn't solve this bug.
Many distances for optimized hairpin placement can be set. While most options are self-explaining, a few need a note:
a) the vertical position of a hairpin in relation to a connected dynamic is set in "Center of Dyn. Expression" (13 EVPU by default on a hairpin opening width of 28 EVPU).
Image 8: Vertical relation of hairpin and dynamics
b) On
very low notes
it's possible to have hairpins closer to slurs and ties to save space (Option: "
Slur/Tie (Very Low Notes)
").
The threshold for very low notes is set in the field below ("
Very Low Note Threshold
", 80 EVPU by default, i.e. ca. 3 ledger lines below the staff).
Image 9: Hairpins on very low notes can have smaller distances
Slurs/Ties
The Perfect Layout plug-in can automatically prolong slurs on tied notes until the end note (see image 1).
Image 1a (Left): Original; 1b (Right): Slur Prolongation
Case 1b) is standard notation in most cases. Exceptions which should not be prolonged are for example string staves with very many tied notes or guitar staves where the legato slur might be mixed up with a hammer-on/pull-off slur.These exceptions are deactivated by default.
Notes tied over many measures or with many ties should not be prolonged either. The default maximum span is three measures or three ties (Option: "
Only If Tied Measure Span and Number of Ties is Less or Equal than X Measures
").
The plug-in removes 'open' ties (i.e. ties not connected to an end notes, also called 'l.v.' ties) by default unless they belong to an instrument that actually can play 'l.v.' (e.g. harp, cymbals, glockenspiel, etc.).
Image 2a (Left): Original; 2b (Right): Open Tie Removed
Glissandi are aligned horizontally and vertically to not collide with notes, note dots and/or accidentals.
Usually glissandi are note-attached smartshapes or tab slides.
By selecting "Handle Solid Lines as Glissando" or "Handle Dashed Lines As Glissando" it's also possible to use measure-attached smartshapes as glissandi.
As this option is unselected by default, it's not available in the Silver edition.

Note: If selected, the algorithm currently assumes that all solid and/or dashed lines are glissandi. So use with caution.
Otherwise for example dashed crescendo lines might be turned into a vertical glissando line.


Counting
Measure Counting Measure counting expressions are shown by default on one-bar repeat and slash style measures if there are at least three adjacent measures of the same style (see image 2).Repeat brackets are automatically taken into account (see image 1). In second endings the counting restarts by 1.You can select to show them on "All Staves" or on "Percussion Staves Only".
It's also possible to show the numbers only every xth measure.
The minimum number of repeat/slash measures to show the measure counting can also be set in "Minimum Number of Repeat/Slash Measures to Show Counting".

Measure counting can be hidden in the score ("Show Measure Counting Expressions in Score"). They are hidden by default.
Or measure counting can be deactivated completely (Uncheck "Add Measure Counting Expressions").

In the first measure of a new counting region, you can additionally show the range. ("Show Measure Counting Range in First Measure").


Image 1: Slash measure counting


Image 2: One-bar repeat measure counting

Systems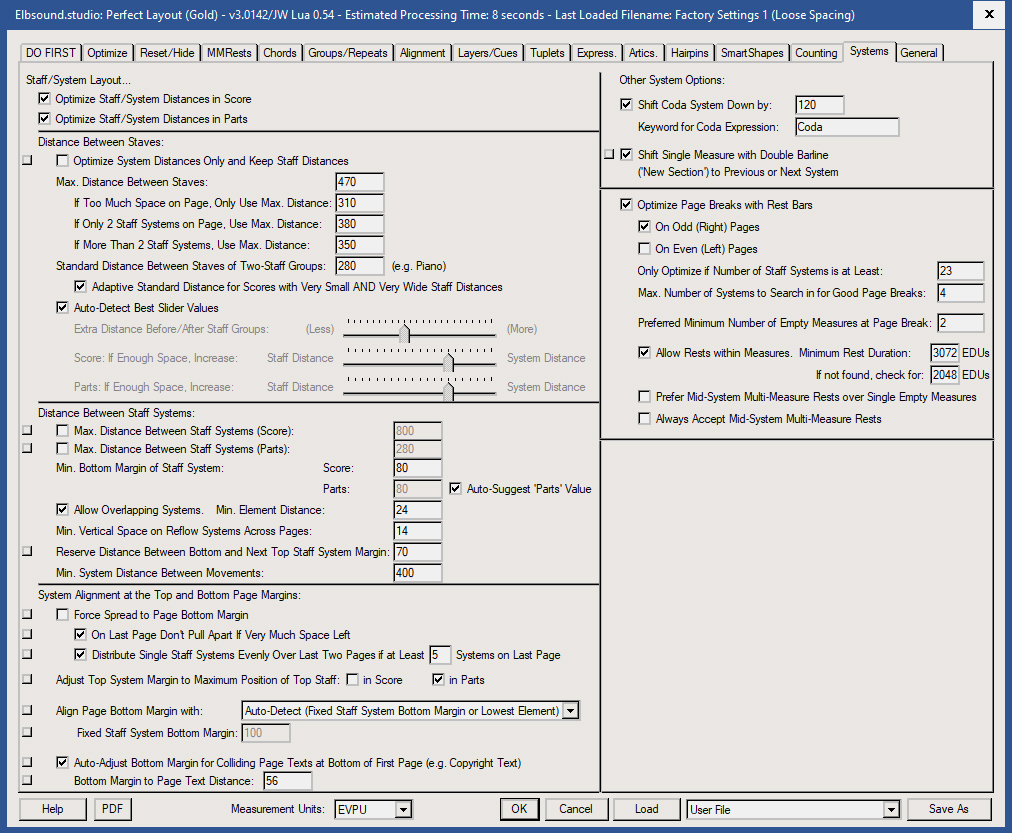 The Perfect Layout plug-in includes a complex algorithm for
creating a non-colliding and visually balanced look of the staff systems
.
This algorithm is currently
only applied to the score
(not to the parts). But if the score actually is a part (i.e. a single staff), then it will also be applied, but in a less sophisticated way (full page span and non-collision only, but not fully visually balanced).
Porting this function to the parts will be a major task for future updates.
Image 1: The score balancing algorithm on an overstuffed page
The algorithm works on overstuffed pages as well as on pages with lots of free space.The plug-in starts by creating the maximum condensed score and then inserts space for a good visual balance.
If there is way too much space, it won't stretch the page until the bottom page margin, but keep a portion free at the bottom of the page.
In general you should always get good results with the default score balancing settings of the plug-in. Should you not be happy with the result or would like to have access to more spacing parameters which are currently hidden to the user, please contact our support team: we might fine-tune our default settings for the future.
The current options for vertical spacing are:
a.)
Max. Distance between Staves
(Default: 470 EVPU)
Usually you will not get this distance between two staves as probably your page will not have that much space. But in case that there is so much space it will be limited to 470 EVPUs, unless only "a bit more" is required to fill the full page.
b.)
Standard Distance Between Two-Staff Groups
(Default: 280 EVPU)
If there is for example a piano part on the staff system, it should not have a distance of 470 EVPU as the other single staves. Instead they should be aligned a bit tighter. 280 EVPU has proved to be a good value for typical piano or harp staves.
c.) Multiple systems on a page are automatically spaced too. The extra space that is added between staves and/or systems can be controlled via the "
Staff/System Distance
" slider.The more you move the slider to the right the more space is inserted between staff systems.
d.)The extra space for groups within a system is controlled via the "
Extra Distance Before/After Staff Groups
" slider.
The more you move the slider to the right the more extra space is inserted before and after groups.
By default these sliders are set to auto-detection: an algorithm automatically sets good default spacing values for standard score types like single staff, piano, piano + solo, duo, piano + duo, small ensemble or large ensemble.
e.)
Reserve Distance Between Top and Bottom System Margin
(Default: 120 EVPU)
After the score balancing algorithm the bottom system margin will be reduced by this value to allow easy manual shifting of the systems if still necessary.
f.)
Min. Vertical Distance on Reflow Systems Across Pages
(Default: 14 EVPU)
If "
Reflow Systems Across Pages
" is activated in the Finale preferences, Perfect Layout will re-arrange the systems across the pages and improve the layout. This "
Min. Vertical Distance
" value defines the minimum distance between two systems.Usually you will never encounter this exact distance between systems in the end, as there is nearly always more space available on a page.
This is more a guide value that defines the general density of a page: the higher the value, the less number of systems will appear on a page.
E.g. the value 0 EVPU creates very dense parts, while a value of 50-70 EVPU generates a very loose vertical spacing.
Note: The whole staff/system spacing algorithm is a very complex system which takes into account many parameters for a good visual balance, so we found these sliders to be a good and easy-to-use compromise.
Alignment at the page bottom:
You can select different alignment techniques for the bottom of the page. In this case alignment means "snap an element to the bottom page margin". That is also why it is important to set the bottom page margin to your needs before running the Perfect Layout plug-in.
The option "
Fix Staff System Bottom Margin (Auto-Detect Lowest)"
looks at all score pages, finds the lowest element at the bottom staff and uses the distance of this element to the bottom staff line as the "fix bottom margin".This guarantees that all staff lines of the bottom staff system align over all pages and that no element goes below the bottom page margin line. This default option works best in most cases.
If the bottom staff has very different distances to the bottom staff line (e.g. in modern piano works), it may work better to select the "
Lowest Element On Bottom Staff
" algorithm which aligns the lowest elements on all pages (and not the bottom staff line).
Both options are combined in the default option "
Auto-Detect (Fix Staff System Bottom Margin or Lowest Element)
": if the bottom margin is huge and very different on each page (e.g. contemporary piano scores), the "Lowest Element" algorithm is select, otherwise the "Fix Staff System Bottom Margin (Auto-Detect Lowest)".
Other options are:
"
Fix Staff System Bottom Margin
": same as above, but the distance is not auto-detected and can be entered manually.
"
Bottom Staff Line
": this option aligns the bottom staff line with the bottom page margin which means that all elements below the bottom staff line appear below the bottom page margin. It's the same as a "
Fix Staff System Bottom Margin
" with a value of 0 EVPU.
Note: the score balancing algorithm needs to take into account each Finale object (except page texts). Unfortunately JW Lua doesn't support all object properties yet, so the algorithm has some minor restrictions.
Currently unsupported or only partially supported objects are for example measure text objexts, graphic objects, chord suffix heights, mid-measure clefs, glissando lines, enclosed objects, staff names, lyrics baselines, complex cross staff notes, shape articulations, ledger lines, modified ties and smartshapes that span more then two systems.
To still support some of these objects dummy values are used which already lead to better results.
The coda system is automatically shifted down for better readability (Option: "Shift Coda System Down").The algorithm looks for repeat elements or text expressions with the user-defined keyword ("Coda" by default).
If the algorithm detects this word at the beginning of a system, it will move the system down by the given value (120 EVPUs by default). If there is not enough space on the page, the score balancing algorithm will probably decrease the distance.


General
It is recommended to bypass empty staves during processing. This will slightly increase the processing speed.By default this is set to "bypass".


The dialogs and warning messages of the Perfect Layout plug-in can be bypassed for example to allow batch processing.
IT IS NOT RECOMMENDED THOUGH! Especially if one doesn't use the Perfect Layout plug-in on a daily basis, it is very likely that one forgets to do some of the preparations before running the plug-in.

If you have bypassed the main dialog, you can reset it either
1.) by deleting its .ini-file. It is located in the same folder as the Finale® configuration files (typically C:\Users\USERNAME\AppData\Roaming\MakeMusic\Finale) and is called "JALAYOUG.ini". Simply delete the JALAYOUG.ini file and restart the plug-in. Then the main dialog will reappear.

or

2.) by changing the value BypassMainDialog in the mentioned .ini-file from true to false.


It's possible to bypass AutoHotKey (i.e. to not show the progress bar and to not minimize Finale®), but it is not recommended as it massively slows down the processing of the plug-in.
If you don't want to see the progress bar, you can also kill the two AutoHotKey tasks (AutoHotKey Unicode 64-bit and AutoHotKey Unicode 64-bit (2)) in Window's task manager.
Attention: You have to maximize the Finale® window manaully if you kill the tasks and probably you won't notice when the plug-in has finished.
Image 1: The two AutoHotKey tasks created from within the Perfect Layout plug-in
The plug-in creates a log file that includes the current progress of the plug-in and actions that might be interesting to the user (e.g. detected problems, expressions that were moved to a new measure position, etc.).
Usually you don't have to consult this log file. But it may be interesting if you have a corrupt Finale® file and try to repair it with the Perfect Layout plug-in or if you are new to the plug-in and want learn a bit more of what it does.
The option "
Open Log File After Processing
" is unselected by default.
More about the log file can be found in the
FAQ
.
The plug-in can automatically check for updates. Though it is recommended, it is deactivated by default for data privacy reasons (GDPR).
You can also check manually by clicking the "Check for Updates Now!" button.


Load/Save
Loading and Saving the configuration
The plug-in always loads the last used settings when it starts and saves the current settings when the dialog is closed with "Ok".
If you click on "Cancel" instead, the last saved settings file remains unchanged.

To restore the factory settings, select "Factory Settings" at the bottom of the dialog and click on "Load".

To reload the last saved settings (e.g. if you have changed some settings, but now have changed your mind), select "Last Saved Settings" and click on "Load".

To load or save your own settings, select "User File" and click on "Load" or "Save as".


 
Other Features
More features of the Perfect Layout plug-in are listed in the Overview section.
As these are so basic for every music score, they can't be switched off.


You can exclude expressions individually from alignment by adding the keyword EXCLUDE to the description text in the expression designer dialog. This can be helpful if you need an unusual placement of an expression which at the same should be taken into account for visual score balancing.
Image 1: EXCLUDE in the description text
Features of "Perfect Layout" for Finale®
Perfect Layout includes more than 100 automated layout processes for Finale® like:
-collision removal of most music symbols
-automatic alignment of expressions, articulations, hairpins, lyrics and many smart shapes
-automatic visual balancing and collision removal of staves and systems in score and extracted parts
-improval of MusicXML imported files and old Finale files from the 90s (including automatic expression category assignment and alignemnt correction)
-automatic repeated measure numbering for percussion/drum staves
-automatic rest splitting and merging according to the time signature

The plug-in works both as a "1-click solution" with many intelligent algorithms that automatically set the best parameters as well as with a very flexible and versatile user dialog with more than 200 parameters in the Gold edition. A full feature list with references to the before/after images below is available at the bottom of this page.

The images below show a few before and after the plug-in comparison.
More before/after examples are available in the Example and Video section.


Feature Overview with Before/After Images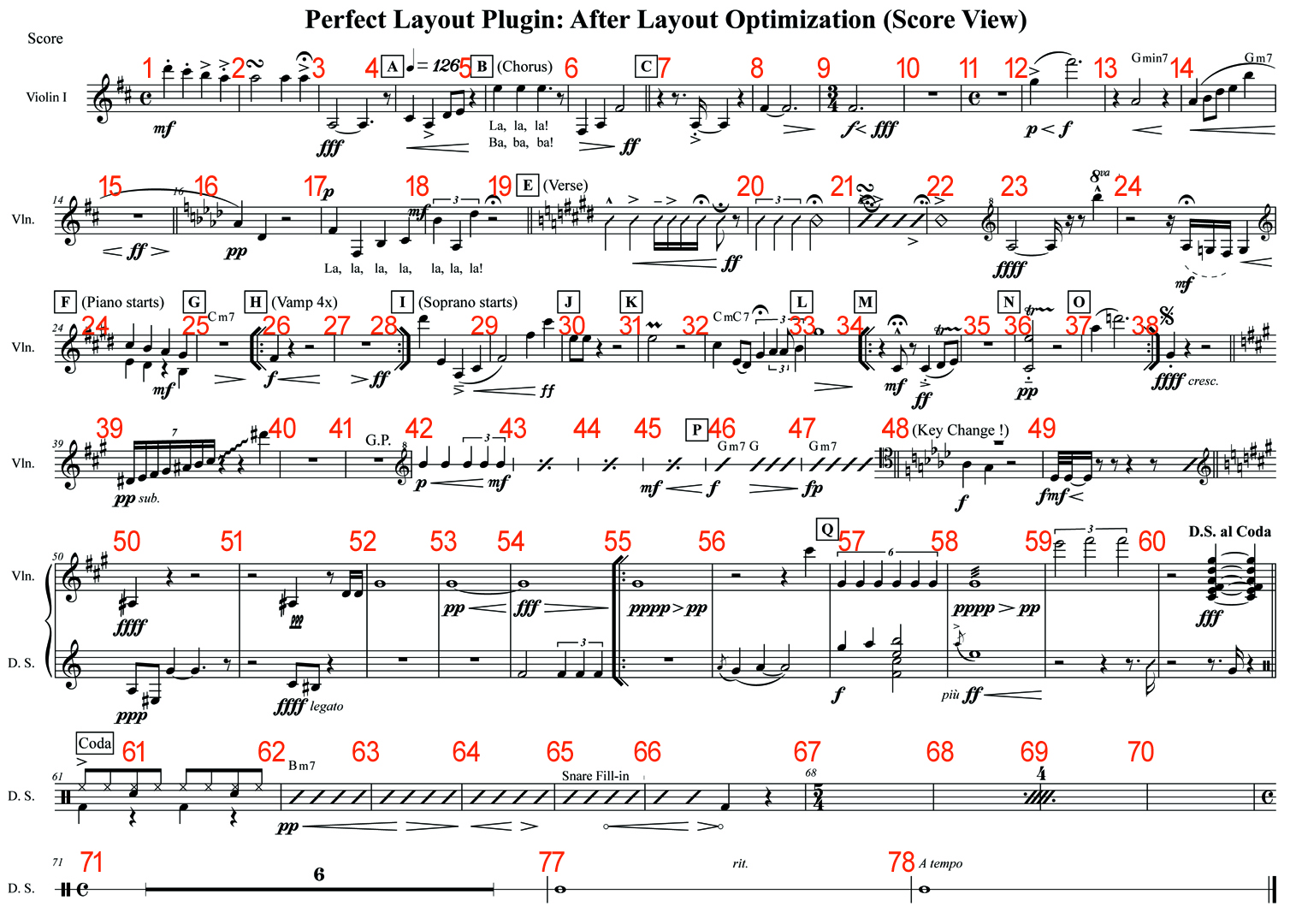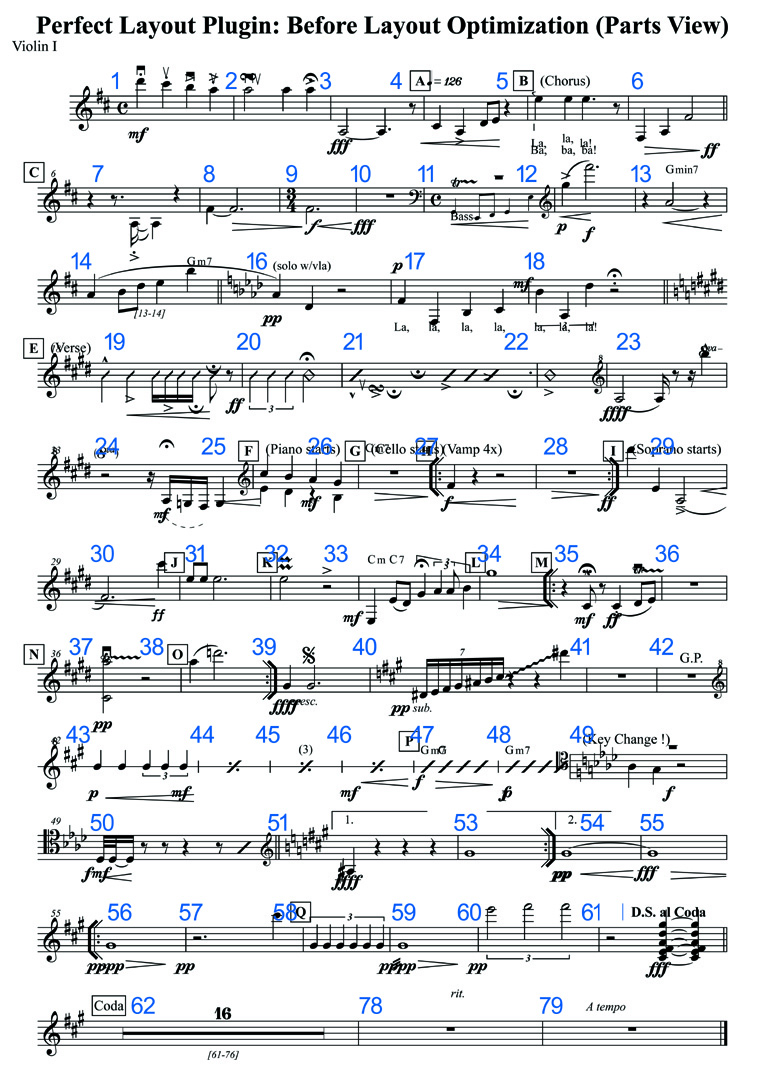 The red and blue measure numbers were added afterwards to the image to help identifying the measures.



Image 2: Automatic score balancing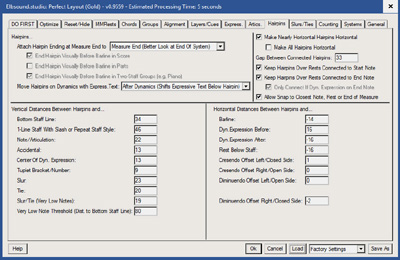 Image 3: The Perfect Layout User Interface (for details see here)


Feature Overview
;Version History;v1.7104 2020-03-30Fixes:- In rare cases a hidden hairpin could cause an error message. Fixed now.- In some cases lyrics were moved to far below the staff if the staff ended with a slur and a hyphen. Fixed now.- Updated necessary MacSymbolFonts.txt assignments. Some fonts for MacOS require to be added to MacSymbolFonts.txt.Improved:-MacOS: A few improvements to the progress bar-MacOS: Improvements to the installer-MacOS: Improved font detection and metrics creation;v1.7000 2020-03-27Fixes:-Tied note clusters over the middle of a measure are not corrected anymore if not all notes are tied.-Silver version: in some cases hidden staves were counted as visible staves and the Silver limit of 36 staves was detected although the staves were hidden.Improved:-MacOS: Improved installer-MacOS: Improved progress bar functionality;v1.6900 2020-03-26Fixes:- Improved lyrics placement when one staff system includes a measure with multiple verses and another measure with a single verse with a different verse number;v1.6800 2020-03-25Improved:- Rehearsal letters in old Finale documents from the early 90s are now better converted to Finale's standard rehearsal mark text definitions;v1.6700 2020-03-22Fixes:- MacOS: Correct elapsed time calculation- MacOS: Progress bar now included;v1.6600 2020-03-21Fixes:- Fix in the font engine- Correct font size in JW Lua on MacOS (Verdana, 12);v1.6500 2020-03-20Fixes:- In some cases two rehearsal marks that were aligned horizontally, but attached to the same measure position, were drawn slightly apart through the plug-in. Fixed now.- In rare cases on expression with slur collisions an error message could appear. Fixed now.;v1.6400 2020-03-19Fixes:- In rare cases of cue note notation in drumset parts moved rests on higher layers over a slash notation style were centered vertically on the staff instead of being kept above as cue notes. Fixed now.Improved:- Time processing estimations that are probably invalid (e.g. above 24 hours) have been eliminated and are now listed as "unknown" time.- Multi-measure rests are now created if only invisible staves include notes.- MacOS version now supports the .dfont font file format.- More automatically detected text fonts added- "Empty" staff styles that use the normal notation style, but with all notation elements (and staff lines) hidden and no note entries are not included anymore in vertical staff system balancing.- MacOS version now also supports OS 10.12 Sierra.;v1.6200 2020-03-08Fixed:- If a measure has a negative width (this should only occur on corrupt documents or, in rare cases, if music spacing has not been applied yet to a part), the width will now be fixed when music spacing is performed.- No more "Invalid slur" warnings on linked parts that use specific voicing.New Features:- Support for multi-measure rests in linked parts that have the "Specify Voicing" and "Selected Notes Only" feature activated. This requires a slow detection algorithm and is a rarely used feature. Unfortunately JW Lua doesn't recognize the "Selected Notes Only" features, so this is disabled by default and must be enabled in the Layers/Cues tab. ;v1.6100 2020-03-06Fixes:- If the top staff of all systems is completely empty (which should not be the case unless it's an incomplete score), has a curved group bracket and a measure number at system start, the measure number wasn't taken into account for collision detection with the group bracket. This is fixed now.- Improved tuplet optimization on duplets in 3/4 that start with a quarter note and in 9/8 measures that start with a dotted quarter note.- Rehearsal/tempo marks/alterations are not scaled on cue notes anymore if the measure also contains a whole measure rest in another layer and the expression is assigned to "all layers".- If a document didn't have any measure number regions, then loading the factory settings in the dialog could produce an error message. This is fixed now.- In rare cases the lyrics font sizes were not detected correctly which resulted in a unoptimized vertical alignment. Fixed now.- If a modified accidental used a completely unknown music font, it was possibe in rare cases that the plug-in would issue an error message. This is fixed now.- In some cases hairpin/tie collisions were not handled correctly if the hairpin was spread over several systems/pages. Fixed now.- Rehearsal/tempo marks/alterations that included the text "rehearsal" were sometimes not correctly vertically aligned. Fixed now.- In rare cases with colliding chords over slash notation and lots of hidden note entries it was possible that the measure spacing was incorrect after removing the chord collision. Fixed now.- When two ending repeat brackets that span multiple measures are used with no forward or backward repeat in between, they were reduced to 1-measure length as ending repeats are Finale-internally assigned only to one measure. In the new implementation they are kept as they are if it's unclear (e.g. no ending hooks) or the first ending bracket is prolongated to the start of the second ending brackets, if it has hooks and visually already spans more than one measure. - The plug-in doesn't crash anymore if a corrupt Finale document has invalid articulation definitions assigned to notes.Improved:- The "Horizontal Distance of Non-Colliding or Parenthesized Accidentals" field on the Alignment tab is now correctly enabled/disabled when the "Alignment of Multiple Horizontal Accidentals" is activated/deactivated.- Improved hairpin/slur collision removal at the last measure of a system when both the slur and the hairpin have a system break and more than one hairpin exists in the last measure of that system.- Improved hairpin start position on two layer measures with both a whole note and a whole rest when the hairpin starts in the middle of the measure.- For security reasons we have updated the included Node.js version (needed for otf font support) to the latest v12.16.1 release.- If rehearsal letters or measure number expressions were not only placed on top of the system, but also on other staves, then it was possible that they could collide with the left barline at system start. Now they are moved slightly to the right.- Improved detection of multi-movement parts that will keep their extra distance when movement names were included as page texts betweeen the systems- When manual system breaks are found and are set to be removed, they are not removed if the previous measure ends with a "final barline". This improves handling of multi-movement documents.- In corrupted Finale documents where the expression definition doesn't match the category definition, the detection of rehearsal/tempo marks/alterations in used-defined expression categories now works correctly.- Word extensions are now vertically aligned slightly closer to notes which leads to an overall better lyrics alignment.- Invalid articulation data assigned to note entries (i.e. articulation definitions that don't exist anymore) are automatically deleted and thus the corrupt Finale document is repaired.- Repeat brackets are now horizontally connected correctly if the end measure has a hidden repeat bar line staff style.- Staccato accents over top slurs are moved slightly closer to the slur.- Added a few fonts to the list of known music fonts.- Improved cross-platform implementation (MacOS/Windows).- Improved music spacing for (some) collisions (especially at the end of the measure and on very low/high accidentals).- Improved collision detection on nested tuplets in Finale 25 and 26 (already worked correctly in 2014/2014.5).- Improved detection of "below tuplets" in lyrics.- Much improved automatic system layout with large text block expressions (e.g. musical theatre cues).- Improved font name/font file name detection - Word extensions that spread over several systems on single verse lyrics are now also vertically aligned systems where there are no other lyric entries.- No more multiple warnings when font metrics files need to be created: only one warning message is issued.New Features:- If a user setting file is loaded, then the file name will be displayed in the plug-in's Windows title.- Collisions with hairpins and lyrics/word extension are now removed, if the hairpins are below the staff.;v1.5200 2020-01-14Fixes:- On corrupted documents (problems with expressions) in rare cases it was possible that temporary expressions that were used for Perfect Layout calculations only were not correctly removed at the end of the plug-in processing. This is fixed now.Improved:- Text expressions with hidden text only are not moved to other categories even if it looks like they are in the wrong category.- Improved (extracted) part detection for non-percussion parts with multiple staves (e.g. divisi violin staves);v1.5006 2019-12-26Fixed:- An error message could occur if a part of a two-staff group (e.g. piano or harp) included two staves, but not only one staff of the original two-staff group (e.g. the left hand piano staff plus a percussion staff).- The top and bottom metrics of a measure in a multi-measure rest at the end of a system were sometimes calculated wrong for vertical staff/system spacing. This could lead to expressions colliding with the measure (e.g. a V.S. expression under a multi-measure rest at the end of a page could collide). - On percussion staves (notation style: percussion) consolidated rests were sometimes moved three staff positions too low (bug introduced in v1.1).- "Three Staff"-piano groups where the middle staff has 0 staff lines are now detected correctly.- When the original score had some "ghost" systems (i.e. systems that appear on multiple pages) and Finale's automatic reflow was deactivated, then in some rare cases the note, articulation and expression metrics were calculated wrong.- Rehearsal mark expressions that were neither in the original "Rehearsal Marks" nor in "Miscellaneous" category were sometimes not taken into account for rehearsal mark collision detection and automatic placement- No rest optimization in a piano two-staff group where one staff only holds a non-whole rest plus cross-staff notes from the other staff.- A rehearsal/tempo mark expression that was placed so far on the right of the page that the majority of its width was outside the margins of the page were sometimes vertically placed wrong.Improved:- Installer stability- Better collision detection of wide tempo/rehearsal marks with multi-measure rest numbers if the multi-measure rest starts in a measure after the expression.- Better support for 2,3 and 4-line staves (improved placement of multi-measure rest numbers, improved placement of tempo/rehearsal marks, correct metrics calculations for the multi-measure rest number and the measure number)- Improved starting and ending position of hairpins on whole note clusters in relation to other notes- Less connections of hairpins over rests if the following note has a dynamic- Improved detection of dynamic/expressive text expressions to be placed above the staff- Improved metrics for vertical spacing of chord symbols with accidentals and bass alterations with accidentals- Very short instrument indications in the score (e.g. 1. or 2.) are taken into account for vertical collision removal- The "Resize Vertical Space" option in systems is now always activated when "Optimize Staff Systems" was activated to improve the vertical distances between the systems.- Improved of metrics of multi-measure rests below "Start Numbering At" value- If there are two chord symbols on the same measure position (which is not recommended), they are not reset to the same default position anymore, if "Set to default position" is activated.- Improved detection of Voice2 sections if they include some hidden notes- Improved adding of extra horizontal space on collisions of note accidentals with note clusters on non-beamed notes with flags- Improved metrics and handling of invisible "middle-staves" in a 3-staff piano group setting.- Improved handling of parts with "specifiv voicing" that only show selected layers- Improved measure number metrics on the rare case where Show on System Start, Show Multiples and Show Measure Range is deactivated and only Show On Multi-Measure Rests is activated.- No more forced respacing when real whole measure rests were default measure rests- Slightly more horizontal space added if otheriwse glissando smartshapes would appear too steep- Improved articulation and dynamics placement if both two layers and cross-staff notes are used.- Warning message to use TG Tools->Adjust baselines for lyrics has been removed. As this process is automated since v1.2.- All Elbsound music fonts were newly rendered for an improved boundary box (i.e. better metrics) in Finale.- Improved horizontal distance between an "f"-dynamic expression and an expressive text expression, if the expressive text expression starts with a smaller letter, so that it doesn't collide with the open "f" if moved slightly to the left (e.g. "mf"+"sub." get closer together while "mf"+"tutti" doesn't).New features:- Adds a 32nd secondary beam break in time signatures with a beat duration of 512, 1024, 1536, 2048, 3072 or 4096, if at least two notes smaller or equal than a 32nd note are before the eighth note beat and at least two notes are after the beat (on "Optimize" tab, activated by default).- New option in the Systems tab: you can now set the "Min. Bottom Margin of Staff System" which is (and was in previous versions) by default 80 EVPU. For very narrow spaced scores (e.g. hymns), it might be necessary to reduce this value for example to 0 EVPU. This will generate an even tighter vertical staff system spacing. Note: this is only the minimum system distance, i.e. if any notation element is below that margin, the bottom margin will automatically be increased to avoid collisions.- On note clusters or multi-voice/multi-layer notes with two accidentals closer together than a sixth the accidentals are shifted closer together while colliding accidentals a sixth apart are torn apart (on "Alignment" tab, activated by default). - New tie handling for note clusters: if respacing is performed, then tied note clusters will use a slighlty increased minimum distance value of 48 EVPUs instead of the standard 36 EVPU. This will usually eliminate the tiny ties that sometimes occur in Finale.;v1.2000 2019-11-22Fixed:- The automatic lyrics alignment is now fully functional! TG TOOLS is not required anymore.- Glissando/smartshape lines between a note and a grace note on the same staff position are now made/kept horizontal.- When only a partial measure was selected, the plug-in could cancel with an error message in certain scenarios.- If only (!) the top or bottom margin in the global page format preferences for the score didn't match the actual used values in the score, the automatic staff/system balancing could cause problems. This is fixed now.- No more warnings in the log file about missing fonts with bold or italic styles that were actually not missing- Text expressions that use the superscript command with a negative value could cause error messages in some cases.- If a dynamic expression was assigned to a higher layer (>1) and the corresponding note on that layer was invisible behind a rhythmic staff style and there was no other note on that measure position, then the dynamic placement was not optimized horizontally.- Articulations on rhythmic staff styles were placed too high if two (!) rhythmic staff styles were placed on top of each other (usually this should not occur as one only applies on rhythmic staff style to a measure).- The font database didn't recognize clef symbols in the Aruvarb font when these were taken from the upper unicode area instead of the 0-255 standard area.- In rare cases word extensions on cue notes with lyrics were not hidden in the score.- If a part was accidentally transformed into a single multi-measure rest instead of the actual note content (before running the plug-in), the plug-in would sometimes show an error message dependent on the real positions of the multi-measure rests. This is fixed now and the single multi-measure rest is now always automatically split into the actual content.- Manually inverted tuplet hooks are now kept in this inverted position.- In some cases not all temporary created expression definitions were removed from the expression dialog. This is fixed now. As they weren't attached to the score, it wasn't visible either.- Noteheads with fonts set to hidden don't cause Finale to hang anymore if the measures also contains entry-based smartshapes.- Perfect Layout v1.0 and v1.1 didn't work in the new Finale 26.2 release, because of an unexpected change in Finale's internal font handling.- The "two staff group" detection (i.e. piano, celesta, marimba) wasn't correct in one rare case and could lead to piano staves being torn apart when there was a lot of verical space for the score.- if a staff in the score was set to "collapse in score only" and at the same used a staff style that was only applied to the score with "collape (score+parts)", then also the staff in the part would be hidden. This is fixed now.- if Finale's reflow settings were set to "Across Systems/Across Pages", in very rare cases (i.e. if the previous spacing was very loose and included many hidden staves) it was possible that the automatic vertical staff spacing could lead to slightly overlapping staves.- No shifting of dynamics on very low notes before the note if the note has an articulation before which would collide with the dynamic (e.g. an arpeggio or a bracket)Improved:- Improved tuplet metrics, tuplet brackets placement, dynamics placement and staff spacing on some cross staff tuplet scenarios- Improved staff spacing on piano notation (groups) with three staves- The installer now checks for updates if it has not checked for at least two days (and not randomly anymore).- Improved dynamics/hairpin vertical centering on piano notation (groups) with three staves- Improved placement of dynamics before very low notes on standard and cross staff notation, on parenthesized accidentals, if repeat brackets in the same measure and on very long notes (> whole notes).- Improved horizontal placement of dynamics on slash staff style measures without notes- Fix of the Finale bug that respacing may change the position of a mid-measure clefs: the position is now stored before respacing and restored afterwards.- An enclosed rehearsal mark letter plus another enclosed rehearsal mark at the beginning of a system don't collide anymore.- The "Show measure number range on multi-measure rests" feature is only activated for the "Digits" numbering style (not for time).- Faster "update available" check- Improved staff system distances on intersecting systems- Incomplete tuplets that only consist of very short notes (128th to 32nd notes) AND that also use the beam extension flag (i.e. tuplet tremolos with no other notes) were sometimes given a higher tuplet number which might have looked a bit irritating.- Installer stability- When run in Fin25 or Fin26 (i.e. 64bit) and several installations and uninstallation of the plug-in were performed into different directories, then in rare cases OTF font metrics were not correctly built in Fin25 or Fin26.- Improved placement of articulations above rhythmic notation for articulations without the "Outside Staff" attribute, but with "Avoid Staff Lines".- Improved horizontal placement of composite dynamic expressions that start or end with a molto cresc./dim. symbol from the support fonts (e.g. "f>" or "Music Spacing is deactivated (usually leads to better grace note spacing) and "Grace Note Spacing" is set to "Automatic".- User dialog correction: vertical space removed on the "Hairpins" tab before "Diminuendo Offset Right"- Improved placement of text expression next to f dynamics, if the text expressions are not on the same baseline as the dynamics (slightly further away from the upper right corner of the dynamic f)- Improved vertical collision offset for some smart shapes over articulations collisions (if the articulation glyph goes below the font baseline)- Improved support for piano notation with three staves- Improved placement of diagonal hairpins- Improved attachment and alignment of ottava smart shapes- Improved placement of measure numbers if two or more measure number regions with similar settings are valid for the same region- Improved detection of font files from complex font names that appear in different combinations of " ", "-", "bold" and "italic" (e.g. MinionPro-Bold-Italic=Minion Pro-BoldIt=Minion Pro Bold Italic)- Improved detection of font files which don't include their full name in the postscript name or full font name entries in the ttf meta data.- Improved measure moving to previous systems on very wide expressive text expressions (not only on tempo marks and tempo alterations as before)- In some cases improved note spacing (=note collision removal) on beamed notes with accidental collisions- Improved placement of p dynamics on very low notes (slightly closer to the note)- Improved detection of two "connected hairpins" if the note entries have a manual offset and don't match the position of the hairpins attached to these notes.- Improved start position of hairpins on certain multi-layer/multi-voice scenarios- Improved optimized hairpin settings: slightly increased line thickness (3 EVPU) if Finale's default value (1,79 EVPU) was still used.- Improved warning message on Finale 26 and articulations compatibility- Improved detection of correctly flipped stems- Improved placement on 8va smart shapes that are continued on to a second system- Improved automatic detection of visual differences in scores between each plug-in version- Improved dynamics+expressive text on the same beat ABOVE the staff are not torn apart vertically (according to the distances to notes below), if they already (more or less) vertically align.- Improved articatulion/tied backwards collision detection at the beginning of a system- Improved detection of duplicate expressions (especially in old Finale documents from the 90s)- Improved rest splitting/merging (e.g. for 5/16, 9/16 and 12/16 measures)- Improved detection of tempo marks/alterations ("stringendo" and "rubato" are not detected any more as they are sometimes used as expressive text too)- Automatic category expression assignment for MusicXML and old 90s imported Finale documents now also works for the mixed music/text fonts FreeSerif and Symbola- In complex multi-layer/multi-voice scenarios long notes tied over the center of a measure at the wrong position are not adjusted in duration anymore to make the middle of the measure more clear.- Entry-based glissandi that end with modified hidden notehead are now handled much faster in the metrics calculation (seems to be a Finale or JW Lua bug)- Improved detection cue note layersNew features:- Horizontal collision removal of dynamics and other text-only expressions that overlap below the staff.- New user dialog option in the Reset/Hide dialog: remove flipped stems also on slurred notes (deactivated by default).- New user dialog option (in the Gold edition): allow/remove collision on dynamics ABOVE the staff with barlines ("Prevent Barline Collisions of Dynamics" in the Express." tab). This value is deactivated by default.;v1.0000 2019-08-03 (RC1)Fixed:- Font metrics file creation would fail in some cases- Horizontal placement of subito and più expressions (e.g. "sub. f") now works correctly again.- No more error message if the piece starts with several measures that only include hairpins.- If only a small region at the beginning of the document was selected (e.g. measure 1-3) in some cases the "full document selected" flag was set which could lead to a longer pre-processing timeImproved:- Improved horizontal positioning of dynamics, expressive text and hairpin on (individually) resized staves.- Measure numbers at the start of a system on an (individually) resized staff are now placed better vertically.- Above staff dynamics on beat 1 are moved to the right (as below staff dynamics) if they collide with the barline.- Below staff tuplets on lyrics staves are not put above staff if there is already a slur above the staff at that position.- Improved collision detection on rehearsal and tempo marks with tuplet brackets and tuplet numbers.- Non-rehearsal/tempo mark expressions above the staff are not horizontally shifted towards a rehearsal mark at the same measure position (and thus being closer than the allowed min. distance) if they collide with a slur or tuplet.- Improved horizontal connection of dynamic expression and expressive text in parts, if they are pretty far away apart in the score, but pretty close or even overlapping in the part.- Improved detection whether tuplet brackets are required or not.- If a piece ends with a very short single coda measure on the last staff system, this measure will not be automatically moved to the previous staff system (as it is a coda measure). It's up to the user to decide, if it should be moved up.- Better support for Adobe Blank font (font metrics file is created and read much faster).- Improved font folder priority when searching for font files.- Better warning message if the plug-in crashes because of the Finale PDK/JW Lua "measure numbere region" bug (also see https://elbsound.studio/perfect-layout/faq.php#go-to-other17)- Sometimes the very first hairpin on a staff didn't get the optimimum start position below a note.- The progress bar now supports other Windows designs and colors (e.g. high contrast designs).-New features- Invalid group start measures (below 1, displayed in Finale as 65536-x) are set to 1.- Rehearsal and tempo marks on (individually) resized staves can get a larger vertical distance to match the distance on the non-resized staves.- Translations of the manual with all web pages to German, Italian, Spanish, Polish and French.;v0.9806 2019-07-04Fixed:- An error message could occur in very rare cases of hairpin with note collisions- Slurs below the staff are now always detected correctly (in some situations they were not detected correctly which lead to some weird tuplet bracket placement).- If hidden staves in the score were at the same time individually resized (e.g. to 60%) and used in a part, the vertical score balancing would produce collisions.- Infinite loop fixed that could occur in a very rare case of hidden staves with reh. mark expressions that use enclosures that re-appear in the score as the top staff when "Reflow Across Systems" was checked- Expressive Text expressions were sometimes too close to the bottom staff line (bug introduced in 0.9654)- Hide hairpins, custom lines and trill smartshapes in cue expressions measures did not work in all cue measures.- If no dynamic expressions were used in a document, then a warning message popped up saying that all dynamic expression were placed above the staff. This has been fixed.- Recreation of multi-measure rests is now performed the same way in parts no matter if the plug-in is applied to the score (and thus all parts) or to the part only. (If applied to the part only, it used to do a measure reflow less often).- Better removal of horizontal collisions of two chord symbols in parts, if both the score and the part have only one visible staff at that measure.- In very rare cases an error could occur when using linked parts with specified voicing on calculating the lowest visible note.Improved:- The PDF manual has now a black font color for better print readability (instead of dark grey).- Improved multi-measure rest metric creation if a multi-measure rest block starts with a repeat bracket and a text repeat element.- Improved placement of text repeats- Improved collision detection of multi-measure rest numbers at the end of a system in a measure with a backwards repeat bracket.- Numbers on multi-measure rests on 1-line staves that are from a handwritten music font with vertically centered placement of digits (as in Jazz font) are now placed better on multi-measure rests.- Online documentation updated for some of the recent improvements- Improved vertical score balancing on congruent staves (fully overlapping staves with a distance of 0 EVPU). The support of this rarely used feature is still not optimum, but at least the staves are not torn apart anymore.- Improved user dialogs- Improved placement of left-aligned repeat text symbols at the beginning of a measure on collisions with notes, rehearsal mark expressions and/or repeat wings.- Installer stability (UTF8 support for jwpluginstorage.xml and support of settings files with more than 100kb length)- Improved connection of dynamic expressions to the left end of a hairpin on slash notation with (hidden) rests- Cresecendo hairpins that collide with (bottom) accent articulations are automatically moved slightly upwards, because of the similar steepness and thus less vertical space required.- Collisions of notes with clefs at the end of a measure are better spaced when the spacing/width of the adjacent measure changes.- The ES Perfect Layout Demo.musx document file has been updated (especially the parts).- Improved batch processing support including an automatic save feature (with 'PL' added to the filename).New features:- New PDF manual that includes all relevant pages from the online documentation. The PDF included in the installer, available online https://elbsound.studio/download.php?f=Perfect%20Layout%20Manual.pdf and as web page https://elbsound.studio/perfect-layout/manual-for-print.php .- The installer now supports two activations of the plug-in if the license key allows two activations. Read the FAQ (https://elbsound.studio/perfect-layout/faq.php#go-to-installation10 ) on how to activate two installations.;v0.9664 2019-06-20Fixed:- Two tempo marks in the same measure at the measure position 0 could collide under certain circumstances at the beginning of a system- If measures at the end of a score were removed before applying the plug-in, Finale sometimes keeps invalid smart shape end positions. In one rare case the plug-in would issue an error message. This is fixed now.- If one visible articulation was below the staff and one invisible articulation (e.g. bow mark) above the staff, the bottom articulation could collide with a tie under certain circumstances.- In a few cases automatic measure widening for wide tempo marks was not activated. This is fixed now.- If trill lines spun over at least three systems and at the same time collided with bow marks, a plug-in error could occur. - Tempo marks and alterations from MusicXML documents are now again set to use category positioning of the tempo marks / alterations category (if it makes sense). This used to work, but was broken for a few versions.- Expressive text expressions in connected dynamic and expressive text scenarios (i.e. mf + cresc.) were sometimes vertically torn apartImproved:- Tempo alterations and rehearsal marks in imported MusicXML documents are now detected correctly and automatically moved in the correct expression category if they use a "music and text" font like JazzText.- Improved horizontal placement of dyn. expression on measure position 0 that have a very low horizontal offset (e.g -100), but are placed after the barline.- On imported MusicXML documents (or very old documents that don't use expression categories yet) tempo and reh. mark expressions that are detected as "valid marks" are removed from those staves that don't belong to the staff list of the expression category- Improved vertical score balancing on documents with a handwritten music font and huge violin clefs- Improved prolongation of repeat brackets with system breaks on the second system when the second system includes multi-measure rests- Right-aligned "subito pp" dynamics that collide with a barline on the left are not automatically moved to the right anymore (but it's recommend to use "pp sub." for clearness)- Improved installer stability- Improved vertical lyrics alignment on hyphens- Improved vertical lyrics alignment lyrics that are added to a non-vocal instrument: when there also notes before or afterwards on the system staff that don't have lyrics, these are not taken into account for lyrics alignment.- Improved vertical system staff alignment on staves that have small very low elements and improved alignment on empty staves and on staves with lyrics- Dyn. expressions in user-defined expression categories get a better horizontal offset if they are set to "Center of primary notehead", instead of the Finale default "Left of primary notehead".- Improved rest split on orchestra scores with 5/4 (2+3 or 3+2) time signatures that use whole notes- Tempo marks on measure position 0 that collide with notes to the right will not be moved up above the note, but to the left if it is only a small movement to the left to prevent the collision.- Improved placement of rehearsal and tempo marks over cancel key sigs on a bass clef staff when changing to a flat key sig.- Improved placement of rehearsal marks at the beginning of a system in case of a rare collision- Improved placement of rehearsal marks after an open second ending repeat bracket- More tolerance on connecting hairpin ends with end of measure or rests at the end of a measure when the next measure is empty (i.e. more hairpins are prolonged to the rest)- Improved visual score balancing on extracted parts if a system has only few peaks and thus a large white area between two adjacent systems- The enclosed letters from JazzText and SwingText font (symbols 0xd8 - 0xf1) are recognized as rehearsal letters- On documents with handwritten music fonts the default horizontal distance between dynamic and expressive text expressions is automatically slightly increased (e.g. the distance between mf and cresc. on the same measure position)- Improved vertical placement of expressive text expressions below the staff if they collide with other symbols that are on other measure positions- Improved collision detection of left- and center-aligned repeat text expressions- Improved expression below baseline for handwritten fonts- Improved detection of coda repeat texts (e.g. D.S.al coda), if these are enclosed with non-asci characters (as in JazzText or Finale Copyist Text)- Improved handling of coda systems- Improved placement reh./tempo marks at measure position 0 if the previous measure ended with the coda sign.- Improved chord spacing on chords at the end of a measure that are very close to the chord on the next measure beat 1. In some case "space at the end of the measure" will be added instead of doing a music re-spacing with "Include Chords" activated.- Improved hairpin start if rest and note are on the same measure position and the note is slightly shifted (then the hairpin will align with the note, and not with unshifted the rest)- Improved vertical alignment of "outlier" tempo marks in difficult collision scenarios (especially with very high slurs)- Improvement handling of "the last measure" in parts: if the last staff system only consists of a single (short) measure, it will be automatically shifted to the previous system.- Fermata expressions in the rehearsal, tempo mark or alteration category are not aligned vertically anymore with other text expressions from these categories (It's recommended though to have fermata expressions in the technique text category or to use a different vertical alignment point than in the reh./tempo mark categories, otherwise the fermata might be placed to high)- If all dynamic expressions are above staff with vertical click position alignment and no lyrics have been found, then a dialog will pop-up and ask if they should be moved below staff and use the standard positioning.New features:- Opaque background on rehearsal, tempo marks and alterations can be automatically removed (as the plug-in will remove the collisions anyway, an opaque background is usually not necessary anymore). You can select "Don't Remove", "Always Remove" or "Remove If At Least 80% of the Expressions Are Opaque" (which is the default).- Automatic repeat bracket staff lists: it's now possible to select if the repeat brackets should only appear on the top staff, top of the groups, top of the groups and single staves, all staves or to keep it as it is. If the plug-in detects a staff list that is assigned to the repeat marks and which is not only an "All Staves" list, then by default the plug-in will select "Keep it as is".- Invalid word extensions (i.e. not connected to note entries) are deleted as they can span over several pages on the score;v0.9654 2019-06-12Fixed:- Problems with the installer on Windows 7 (introduced with last version 0.9650)New Features:- If a 1-line staff only has notes on one pitch and these are above or below the staff line, then they will be moved onto the staff line (activated by default).Improved:- A few corrections in the plug-in's main dialog- Improved score balancing if a score uses measure numbers between staves and at the same time rehearsal mark expressions that hide measure numbers, but that are placed in a different staff- Improved installer stability- Improved measure number metrics function- Performance of font metrics reader has been improved;v0.9650 2019-06-08Fixed:- Malwarebytes anti-virus has blocked the plug-in update tool in previous versions. They now have removed the block.- If two nested group brackets were used (one with curves, one without), then a collision with a measure number could occur.- If a music font is used for measure numbers with digits that are vertically centered on the font baseline (instead of put on top as in text fonts), the measure numbers at the start of the system are now placed correctly.- Horizontal placement of dyn. expressions on very low notes with tie backwardsImproved:- The coda system detection works faster now.- Speed boost of ca. 11-15% on Windows and 25% on MacOS by introducing a few optimizations- The "How to use Perfect Layout" document is now included as a PDF in the installer- The plug-in and the installer now issue a warning message if Windows PowerShell is not installed on the computer (under normal circumstances it is always installed on Windows 7, 8 and 10). If it is not correctly installed, neither the plug-in nor the installer will work as it is necessary system requirement for the installation.- Improved placement of dynamics before very low notes- If PowerShell is installed, but not included in the Windows environment variables (which seems to occur on some Windows 7 installations), it will be automatically added (but it requires a reboot of Windows).- Improved glissandi distances - Multi-measure rests are not squeezed anymore on a crowded system with lots of horizontal note collisions that get extra horizontal space from the plug-in- Automatic multi-measure rest measure range placement uses a more intelligent algorithm and only updates the default placement values if necessary- If the multi-measure rest range font is a music font, then the brackets are not updated to "[" and "]" anymore.- Improved vertical alignment of trill articulations with wiggle smart shapes- Improved vertical placement of custom smart lines and trill shapes above notes with ties and/or accidentals- Improved note spacing on note-to-note collisions in multi-layer/multi-voice scenarios- Hairpin with tie/slurs collision removal improved in a few cases where ties, slurs and/or hairpins span over several systems- Dynanmic expressions at the very end of an empty measure are moved forward to the next measure if that one has notes on beat 1 on no other dynamic expressions.New feature:- The rehearsal marks at beginning of system placement has a new option "Keep Current Position".- The installer now has the option to change the default plug-in folder in your Finale menu. If you use a folder name like "ZZZ Elbsound JW Lua" instead of "Elbsound JW Lua" it will be added at the end of the plug-in menu and won't mess up with any macro settings.;v0.9620 2019-05-27Fixed:- Notes in octaves both doubled with unisons on another layer are not torn apart anymore (both layers will keep the note entry offset of 0)- long vertical or diagonal custom smart shapes (solid lines, dashed lines, etc.) are not taken into account for staff spacing in piano groups (i.e. they don't lead to unnecessarily big staff distances anymore)- If group brackets are automatically added, then on piano groups piano braces will be used.- Whole measure rests are not removed anymore, if the staff (style) is set to not show whole measure rests in empty measures- Wrong rehearsal mark width calculation in some cases which could lead to other tempo mark expression next to it having a too large horizontal distance to it- When the Human Playback plug-in was used and it generated hidden tremolo playback notes, the stem direction of the notes could be wrong.- A collision between a rehearsal mark and a tempo mark could occur under certain circumstances (at least three rehearsal marks on one line and two at the same measure position and one in a different measure at an outlier position).Improved:- Piano (or organ) systems now have a better support on cross staff notation metrics/collision removal if they consist of 3 staves.- Improved placement of dynamics on cross staff notes- Invisible custom smart shapes are not replaced according to close notes, but just ignored- when the page format settings of the first part are different to the default settings, the plug-in automatically updates the default settings according to the part (in previous versions this was only done in the score, but not in the part)- Improved font detection for font Times, and for fonts with bold or italic styles.- Improved horizontal distance between tempo marks and rehearsal marks with opaque background that is wider than the expression itself (e.g. with the EnclSerif font) - Improved hairpin/dynamics spacing in very narrow measures if there is in general enough space on that system.- Improved score balancing on measure numbers between staves with fixed size fonts- Improved hairpin/dynamics spacing in very narrow measures if there is in general enough space on that system.;v0.9614 2019-05-21Fixed:- An error could occur in a document with linked parts that use the "Specify Voicing" feature where ties or tuplets in the score appear- In rare cases in extracted parts with hidden staves in some systems (e.g. percussion parts) multi-measure rests could span over a time signature change - In 3/2 time signature whole measure rests were accidentally split into to half rests- Forte-Piano marks consisting of two separate dynamic expressions are now better handled if they are both expressions are shifted away from a measure position